ASPIRE: Financial Aid
&

FAFSA
Financial Aid Resources
The financial aid process and options can be overwhelming.  Below are some resources that ASPIRE suggests researching as you figure out your student's financial aid:
Federal Student Aid website: find detailed information about the FAFSA, the FSA ID, the IRS Data Retrieval Tool, student dependency status, reporting parent information, and what happens after the FAFSA is submitted.
FINANCIAL LITERACY GUIDANCE FROM FEDERAL STUDENT AID (PDF)
SALT – a great financial aid and college budgeting website
ECMC – a great resource for financial aid guidance and college planning.
Net Price Calculator – Forecast what your college will cost.  Each school should have their own Net Price Calculator on their website as well. Search for your school's specific Net Price Calculator here.
College Score Card – Research the school's cost, graduation rates, average student debt, and salaries after graduation.
5 Financial aid tips to help you pick the right college
5 of the Best College Savings Apps
FAFSA (Free Application for Federal Student Aid)
Class of 2019 Seniors: The FAFSA will open October 1 of your senior year for financial aid for the 2019/20 school year. You will use information from you 2017 taxes on this application.
The FAFSA is how students apply for Federal Financial Aid, including both "free money" and the best and safest loans. Federal and state aid is awarded on a first-come, first-served basis.  In short: The sooner your fill out the FAFSA, the better. To ensure maximum opportunity, the FAFSA should be submitted online within the first two weeks of October. Seniors and their parents should fill out the form right after it opens on October 1 of their senior year.  Remember, the FAFSA need to be filled out EVERY year the student is in college.
Assistance with completing the Free Application for Federal Student Aid (FAFSA) is available by contacting ASPIRE.  The form may be accessed at www.fafsa.gov. Be sure to use the .gov site for all FAFSA submittals; DO NOT pay to have a FAFSA complete – it's FREE!
All student families should complete the FAFSA regardless of income.  The FAFSA is one of the factors used by colleges to determine school scholarships. No FAFSA, No Opportunity!
The FAFSA PIN is replaced by FSA ID (May 2015) – Find instructions on how to create this ID here.  Click here to make your own FSA ID – both the student and parent need to create their own ID.
Estimate your eligibility for federal student aid – click on FAFSA4CASTER once on this site.
Some good videos on how to fill out the FAFSA:
FAFSA Walkthrough from Khan Academy
How to Fill out the FAFSA from Federal Student Aid
Done with the FAFSA? Next Steps (PDF)
FAFSA Tip Sheets:
Check out the links below for tip sheets from The U.S. Department of Education Blog regarding FAFSA:
5 Reasons You Should Complete the FAFSA
7 Things You Need Before You Fill out the FAFSA
6 Steps to Filling OUt the FAFSA
5 Things To Do After Filing your FAFSA
7 Myths About the FAFSA and Applying for Financial Aid
7 Common FAFSA Mistakes
Parents: Tips to Help Your Child Complete the FAFSA
ORSAA
In Oregon, students must complete either the FAFSA or the ORSAA to be considered for state-funded grants, including the Oregon Opportunity Grant and Oregon Promise.  All students who are U.S. Citizens or Legal Residents should complete the FAFSA.  DACA students and other undocumented students who are not eligible for federal student aid programs should complete the ORSAA.  All students should note that the FAFSA and ORSAA are not tools that are used to identify undocumented parents or to deport families.
The ORSAA is used exclusively by the state of Oregon, not the Federal government.  The Office of Student Access and Completion (OSAC) shares a student's ORSAA data only with the Financial Aid Office at the school(s) the student listed on the ORSAA.  Data from the ORSAA is private, secure information that is not shared with the federal government or other outside entities.   Oregon uses the ORSAA to process applications for state grants and other aid programs administered by OSAC.
Federal Financial Aid & Undocumented Students Q&A (PDF)
Other resources for DACA students:
DACA Scholar – download the app!
The Dream Scholarship
Oregon DACA Coalition
Oregon Opportunity Grant
If you're PELL Grant eligible from the FAFSA, you'll most likely qualify for an Oregon Opportunity Grant from the Oregon Student Access Commission (OSAC). OSAC uses a formula that considers student, family, and government resources, as reported on the Free Application for Federal Student Aid, to determine grant eligibility and the size of each student's Opportunity Grant award. Check out the Oregon Opportunity Grant Estimator to see if you'll qualify for these need-based grant funds.  For 2014-15 the amount for the Oregon Opportunity Grant was $2,100.
These funds usually run out by the middle of February, so be sure to submit your FAFSA as early as possible!  Also, note that if you receive an Oregon Opportunity Grant you can only use the funds at an Oregon institution.
The Oregon Promise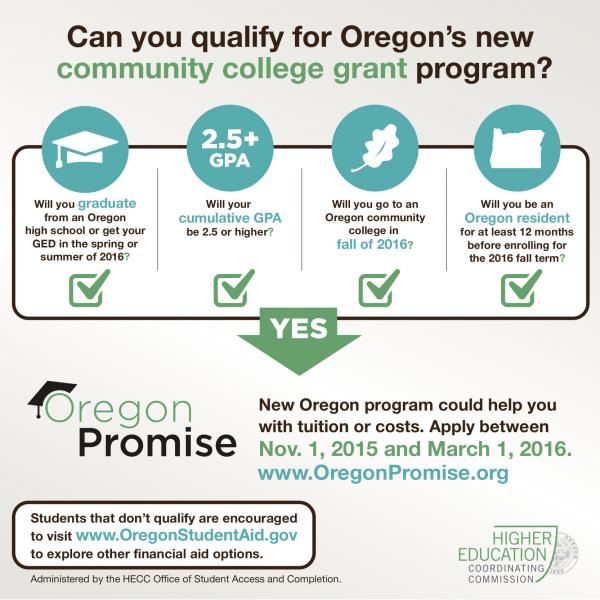 Oregon's new grant program for community college, known as Oregon Promise, will begin accepting applications on Nov. 1, 2015. The Oregon Promise provides grants for new high school graduates and GED® recipients who will begin community college classes in the Fall 2016 (for eligibility requirements, see info and documents below).
Fact Sheet (PDF)
Application Deadline Tool
Informational Video
OSAC Website with more information
How will OSAC notify students that they have been awarded an Oregon Promise award?
OSAC will notify students of their award via email, and the information will be available in the student's profile on the OSAC Application Portal. OSAC will also notify schools' financial aid offices via weekly award lists. Schools include this award information in students' financial aid award letters.
For other Oregon Promise Q & A visit here.
Evaluating Financial Aid Award Letters
"Understanding Your Financial Aid Award" (PDF) : a single page guide provided by OSAC.
Financial Aid letters come in many shapes and sizes.  When comparing them side by side, we suggest making them look the same.  This "Financial Aid Shopping Sheet (PDF) " is a tool the US Department of Education came up to help make award letters look more uniform.  Your institution may already use this form, but if not we recommend transferring the information to this format so it's easier to read.
**PHS ASPIRE College Financial Worksheet: download this Excel worksheet to compare your letters side-by-side and truly understand what college will cost you.
Use Accepting Aid to understand the different types of financial aid and which ones you should accept.
Compare your financial aid letters side-by-side with this online tool: https://bigfuture.collegeboard.org/pay-for-college/financial-aid-awards/compare-aid-calculator
Compare your package to other students like you at your school at.  Make sure you are getting a decent financial aid package.
Tuition Tracker (www.tuitiontracker.org): This tool shows what students really pay for college, based on their family income.
College Board (www.bigfuture.collegeboard.org): Search for the school then select the "Paying" tab on the left menu to see the full COA as well as financial aid statistics.
An informative presentation provided by NPR.
College Budget
Estimate your College Costs
Student Budget form – remember to budget for 4 years of college, not just Freshman year
$$$ Paying for College $$$
OSAC has new information (January, 2014)  on Oregon's 529 College Savings Plans at www.oregoncollegesavings.com/news/seminar.shtml.   Investment portfolio alternatives, returns, FAQ, and tax advantages are provided.
IRS Publication 970 – Tax Benefits for Education 
Other Costs
After tuition and fee's, there's many more costs that families don't plan for.  Check out this NPR Article for more information.
Student Loans
Education is the best investment you can make. With that being said, most students use federal loans to help finance their studies and some may turn to private loans. Taking out a loan is an important financial decision that can affect a student for years to come. It is critical for students to understand their loan options and associated responsibilities in order to make good borrowing decisions.  If a student's scholarships and grants (free money – you don't have to pay it back) are not sufficient to pay tuition and other education-related expenses, students should consider the William D. Ford Federal Direct Loan Program and the Federal Perkins Loan Program. These federal programs offer more repayment options and critical protections for students than private loans.  For more information on these options visit:
Private Loans – Private loans should be the last financing option to be considered and used. Private student loans are nonfederal loans made by a lender, such as a bank, credit union, state agency, or a school. They do not typically offer many of the benefits of federal student loans, such as fixed interest rates and income-based repayment plans.
Student Loan Calculators
https://studentloans.gov/myDirectLoan/mobile/repayment/repaymentEstimator.action
http://www.bankrate.com/calculators/college-planning/loan-calculator.aspx
http://mappingyourfuture.org/Paying/standardcalculator.cfm
Another great resource for information on loans, including more calculators: https://bigfuture.collegeboard.org/pay-for-college/loans
How much should I borrow? Borrow only what you need and consider the earnings potential in your chosen profession to determine how easily you can repay your debt. You can find career salary estimates at the U.S. Department of Labor's Occupational Outlook Handbook at www.bls.gov/ooh. Your student loan payments should be only a small percentage of your salary after you graduate.
General guidelines:
Parents should fund their retirement BEFORE they fund their child's education.
A student should not borrow more than the average first year salary of the profession they plan to have after graduation.
Information from the Consumer Financial Protection Bureau: CFPB Warns Student Loan Servicing Problems Can Jeopardize Long-Term Financial Security for Older Borrowers (view the full Snapshot published by the CFPB Jan 2017(PDF): "Unlike their younger counterparts, who generally are expected to experience income growth over their lives, older consumers typically experience a decrease in income as they age." For other concerns, read the Snapshot.